925 Sterling Silver Modern Inter-Changeable Ball/Orbit Ring 19 Real Stone Balls
100611

19 Genuine stones called round,orbit,ball,or mable....stones to be put into a modern sterling silver 925 setting. The stone attaches from the back
so it is quite secure in the setting until you change it. Six of the stones have a cat's eye. In nice condition with a slight thinning of the back of the band
which is expected, but still very wearable for many more years to come.
Size: approx. 6 ¾ or 7 approx. 50mm around the inside...with 5/8" depth.........Each stone is approx. 8.5 or 9mm..across the front
Comes in the original velvet box with a chart of stones....and would make a fabulous gift.
Looking for something else use the "Search Box" in my shop to possibly find what you are looking for.
Please make it a point to visit both of my shops, Loveoldstuff-rp here and Ruby Lane. My other shop web address can be found on this shop's home page & links. I will gladly combine shipping from both shops to save you money.
NOTE: International:...minimum $10.00 to ship..will advise.
Pattern: Sterling Silver
Color: Multiple
Quality: Verry Good
Vendors Item# 100611
Payment Terms: USA Pay Pal, Personal Check, MO...International Pay Pal, Western Union..Canada Only International Postal Money Order, or money order with USD Funds from a bank with a US address, & Pay Pal.
SHIPPING: ONLY FOR USA $4.00-Ins. Included up to $50.00 Value First Class-Priority Additional FOR USA...... $7.00-$10.00 International..Ins. included.
Mostly all of my items are "Vintage" (previously owned, worn, & loved so some normal wear is expected, faults will be noted). New & Contemporary items also sold.
For More Costume Jewelry Visit my Ruby Lane Shop http://www.loveoldstuff.rubylane.com
Thank You for Visiting, Bookmark My Site & Come Back Soon....Lil
ORDERING USE "ADD to CART": Click the "Blue Button" at the left of the picture. You should receive an email from me within a short time...If you do not hear from me..please email me directly at loveoldstuff@comcast.net with the #'s you are interested in purchasing...I truly appreciate your business, and I know you will be a steady customer after you experience my excellent service and the quality items I offer...Thank you so much..Lil
GUARANTEED-100% No Questions Asked - See Policy -GIFT WRAP: Free on Request
3+ Items Free Shipping In The USA (Private Ins., Del. Conf.Included).
See "Ordering Information* for Shipping Fees. ******100 % Money Back Guarantee (see Refund Policy)*******
For additional information or to place an order for this item, please feel free to email us at loveoldstuff@comcast.net.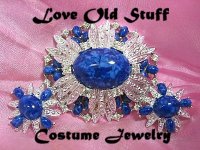 Vendor Contact Information:
Love Old Stuff Costume Jewelry
Contact: Lil Roberts
Please Use Email
Manassas, VA 20111-1947 USA
loveoldstuff@comcast.net
https://tace.com/vendors/loveoldstuff.html.