Nice Southwestern style open curved bracelet 1/4" wide with a single chunk of Kingman turquoise in the center. Lots of touchmarks, designs around the bangle. Not signed but tests sterling. I believe this is of SW Indian origin. Very attractive when worn.
Turquoise is one of the first gems to be used in jewelry as far back as 5000 B.C. Found in China, Tibet, Afghanistan, Mexico and the Mid-East as well as Arizona and New Mexico,turquoise is a soft blue unless iron is present to make it more green. It sometimes has a rock matrix or inclusions of black, brown or gray. It was and is popular with many cultures including the American Indian. The name comes from a French word meaning "Turkish" probably because most of the stones came to Europe through Turkey and Persia. Turquoise is surrounded by legends and beliefs. Oriental cultures believe turquoise wards off evil. Aztecs called turquoise "stone of the gods". Germans believed it a love token. North American Indians used turquoise as a monetary exchange as well as for ornamentation and ceremonies. They believed it represented the sea and sky. A 15th century legend was that the stone would lose its color when the owner is unwell or in danger and then regain the color when the danger has passed. True turquoise should be cleaned only with warm soapy water, never chemical cleaners or use "Wadding polish" to polish your jewelry including the turquoise. It is also effective on coral and jade. For more interesting information on turquoise jewelry CLICK HERE !


Price: $ 25
Manufacturer: unsigned
Quality: very good
Quantity: 1
Vendors Item# 18504
Most of our items are vintage unless we tell you otherwise. Therefore expect them to be in "Vintage" condition. This means normal wear and some softening of stone sparkle is to be expected. If either is in excess we will note it in our description. We do not thoroughly clean our items, leaving that to the preferences of the buyer, and if there are any serious problems, flaws or noticeable repairs, we will always try to note it in the description. Realizing that nothing can replace a "hands-on" inspection of an item, if you are not satisfied with your purchase for any reason, we will always accept returns or otherwise try to make you a satisfied customer. Our return policy can be found at the top of each item page.
If you ask us to hold an item for you and then change your mind about purchasing, please let me know so that we can remove the hold and release for sale. Thank you for shopping with us !
For additional information or to place an order for this item, please feel free to email us at saf1551@yahoo.com or call (304) 945-9136.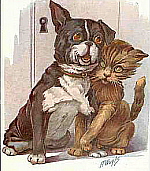 Vendor Contact Information:
Jarretts Jade Jewelry & Small Antiques
Contact: Bill or Sally
889 Sherwood Rd
Charleston, WV 25314 USA
Phone: (304) 945-9136
saf1551@yahoo.com
https://tace.com/vendors/bjarrett.html.
×
Click to image for full size image