VINTAGE POODLE PINS & JEWELRY
CONTEMPORARY POODLE PINS & JEWELRY
VINTAGE PINS ARE AUTHENTIC VINTAGE CIRCA 1950
All in Excellent Condition Except as Otherwise Noted


Page 2 of 3


Poodle Trinket Box
$65.
(Includes Domestic UPS Ground Shipping)
#23688

(U)
Poodle Pin
with Multi-Color Rhinestones
Contemporary
#26545
$18.



(X)
Poodle Charm Necklace Earrings Set
Adj. 17, 17-1/2, 18"
#40235
$24.


(HH)
Clear Rhinestone Silver Tone Dog Paw Print Earrings
#38157
$18.


(KK)
Rhinestone Gold Tone Paw Print Pin
#38162
$15.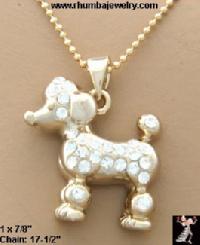 Goldtone Poodle Pendant Necklace
#42489
$18.

Also Available in Silvertone!



To order any of these items, just click here to e-mail us at Adon13@aol.com
Or, Fax us at 773-525-1920
Or, Telephone us at 773-929-9007

Click Here to Go to Page Three



Click Here to Go Back to Page One


Who's the Cutest Rhumba! Dog? Click here to view our Favorite 4-legged friends!

Click Here to go to the Rhumba! Homepage
Our Website Address is:
http://www.rhumbajewelry.com


Didn't find what you were looking for? Search our site with over 5,000 items for sale online daily: