This is a pair of what I believe to be mourning bracelets - obviously very old and made with black elastic threaded through the brass halves of the bracelet to allow for any needed expansion. Each end of the bracelet is capped in rolled gold - one cap is missing, but the bracelet still functions fully. The outside enamel is a little worn around the edges but otherwise in remarkably good condition. I have not seen this style before so am unable to give much information other than probably Victorian era
Mourning Jewelry actually began around the 17th century and continued in various mediums throughout England and France. The popularity peaked during the reign of Queen Victoria upon the dealth of Prince Albert. Popularity increased in the United States during the Civil War and woven hair jewelry became a popular parlour art. Please visit our Mourning Gallery for mourning jewelry resources, sympathy and condolence quotes, photos and more. Our Main Site Gallery will list our current items for sale.
For More Items Like This Use The Search Option At The Top Of The Page

TO ORDER THIS ITEM - Best Way - Just click the Blue Shopping Cart Button to the left of the photo and then

wait for us to confirm the availability of the item before making payment.

For Sale Prices Always Use The Cart Method So We Can Invoice You for the Sale Price !

Check our main page for sale information

If there is a PAYPAL button beneath the CART button, you can QUICK PAY but waiting for item

availability confirmation is the best way......!

NO SHOPPING CART Or PayPal BUTTON ? The item is either sold, on hold or out of inventory (O/I).

Email us at saf1551@yahoo.com giving us the item # and we'll verify it for you and if the item is available,

we will send you a PayPal Invoice or other payment information.

Don't Forget To Browse Our Jewelry & Accessory Resource - Click Below

ALL THAT ADORNS, CREATES, DESIGNS, ENHANCES

ADDS TO, REFLECTS, INFLUENCES, CONSTRUCTS, MANUFACTURERS,

REVEALS, DRESSES, COMPLIMENTS OR OTHERWISE FITS OR ADDS TO

THE HUMAN FORM - IT IS HERE.
Price: $ 25 pair
Pattern: bangle
Color: black, brass ?
Dimensions: 2" inside diameter but see description
Manufacturer Date: vintage
Quality: good
Quantity: 1 pair
Vendors Item# 45535
Payments: PayPal, Money Order, Personal Check, Layaway
Shipping US: $3.00 first class insured
International: See shipping policy top of page
Layaway: See how to order top of page
Most of our items are vintage unless we tell you otherwise. Therefore expect them to be in "Vintage" condition. This means normal wear and some softening of stone sparkle is to be expected. If either is in excess we will note it in our description. We do not thoroughly clean our items, leaving that to the preferences of the buyer, and if there are any serious problems, flaws or noticeable repairs, we will always try to note it in the description. Realizing that nothing can replace a "hands-on" inspection of an item, if you are not satisfied with your purchase for any reason, we will always accept returns or otherwise try to make you a satisfied customer. Our return policy can be found at the top of each item page.
If you ask us to hold an item for you and then change your mind about purchasing, please let me know so that we can remove the hold and release for sale. Thank you for shopping with us !
For additional information or to place an order for this item, please feel free to email us at saf1551@yahoo.com or call (304) 945-9136.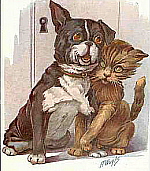 Vendor Contact Information:
Jarretts Jade Jewelry & Small Antiques
Contact: Bill or Sally
889 Sherwood Rd
Charleston, WV 25314 USA
Phone: (304) 945-9136
saf1551@yahoo.com
https://tace.com/vendors/bjarrett.html.